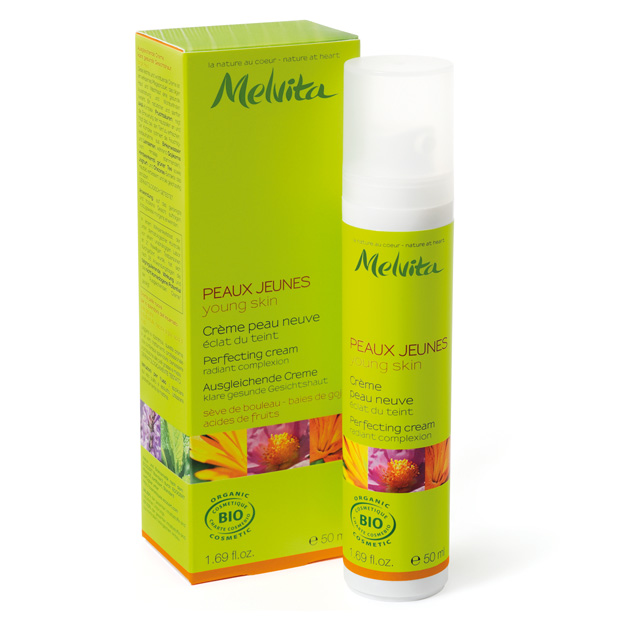 The 'Melvita' challenge! This week I will be reviewing a skincare brand named 'Melvita'. I have the 'Young Skin' collection and will be updating you each week on the results! The contenders are: SOS tinted blemish cream, cleansing foam jel, cleansing facial scrub and radiant complexion perfecting cream! What will happen during the battle, who will come out on top? Stay tuned. Melvita- CONCEAL & TREAT BLEMISHES with SOS BLEMISH TINTED CONCEALING CREAM.
Conceal and treat blemishes in one single and simple step with the new organic Melvita SOS Blemish Tinted Concealing Cream.
Rich in natural pigments, the light cream texture with moisturising active ingredients, jojoba and birch sap, hydrates the skin so that it doesn't dry out, effectively concealing blemishes all day long. Formulated with Nigella Oil and Lavender Oil, the purifying and anti-bacterial properties work to clear spots and prevent breakouts, so that skin is cleansed and concealed at once.
Proven effective in dermatological testing, 100% of testers said that "blemishes were less visible" immediately after applying the cream. The blend of mineral pigments ensures easy application and all-day staying power working to conceal blemishes without the need to re-apply. 81% of testers said they noticed an "improvement in blemishes thanks to the product" after three days' use and 86% said that after a month the surface texture of their skin is clearer.
Use SOS BLEMISH TINTED CONCEALING CREAM, £13.00, for targeted action to conceal and treat unsightly blemishes. Check out more of Melvita from http://uk.melvita.com/Organic-Beauty-Melvita-UK,8,1,1093,37547.htm