R.I.P Talia Joy
Too many deaths this week, we'll need more tissues :( The beauty guru Talia Joy passed away this morning (July 16th) and the irony is that although she probably lived her life in pain, she displayed a joyful outlook on life and spread joy to many others. She died aged 13 after a seven year battle against a nerve form of cancer called neuroblastoma. After a tragic death, her family posted this official statement on her Facebook page:
'It is with a heavy heart that we share with all of you that Talia has earned her wings at 11:22am. Please lift her beautiful soul, her beautiful light to heaven and please send your love and prayers to her family during this most difficult time. God speed little one, may you be free from pain and suffering, may your soul feel the light and love that you brought to so many of us on this Earth during the short time you were her with us. We will miss you more than you will ever know baby girl.'
One of the things on Talia's Bucket List was to meet Kylie and Kendall Jenner. Sadly, Kylie did tweet this a few days ago;10 days ago, maybe Kylie knew it was coming? In my opinion, celebrities post these things on the day they find out not normally before...
But it is rumoured that Kylie, Kendall and even Bruno Mars sent her packages throughout her treatment. Plus she featured on 'The Ellen Show' and touched Ellen with her positive perspective on life. Ellen honoured Talia as a covergirl.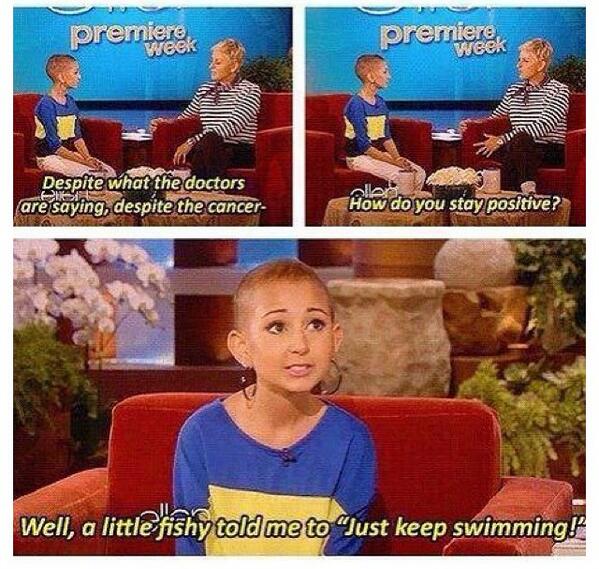 Well, heaven has gained two beautiful angels this week and we hope that they are in a happier place. Prayers go out to the families in these sorrow times. Perhaps you could this Friday 19th contribute to the #alittlefishyproject Talia would've loved that. Plus, spam M.A.C. cosmetics' Facebook page with requests for Talia's own make-up line, which was on her bucket list. All profits should go to a cancer charity <3
One of Talia's beauty tutorials plus her interview with Ellen,
Fans have taken to completing tasks on Talia's bucket list, are you going to try any? If you do say in the comments and email us pictures! <3
Plus you can sign the cancer treatment petition, to up the amount of funding the hospitals receive.
http://www.thetruth365.org/petition/